Rõhuta oma stiili, paranda enasetunnet ja ole aktiivne koos uue vívosmart 4. Õhuke, veekindel on täis fitness- ja tervisetoiminguid, mis aitavad sind tervislikuma ja aktiivsema elustiili poole. Randmepõhine Pulse Oxi andur võimaldab magamise ajal vere hapniku küllastumist hinnata – või võid kohapeal kontrollida oma hapniku taset igal ajal päeva jooksul. Seade jälgib ka südame löögisagedust randmelt ja sisaldab kasulikke vahendeid, nagu kogu päeva stressi jälgimine, lõõgastava hingamisaja ja VO2 max näite. Lisaks Body Battery'i energiarežiim nõustab kas peaksid nüüd puhkama või just aktiivselt toimetama. Basseini või dušši jaoks ohutu, vívosmart 4 on koos sinuga 7 päeva järjest edastades kõiki nutiteavitusi kuni pead kella akut laadima.
Stiilne ja nutikas
Mitmes värvitoonis saadav, õhuke käevõru täiendab su stiili oma eripärase disainiga, erksat ja hõlpsalt loetavat ekraani ümritseb mettallist elegantne raam. Ekraan on ainult siis aktiivne, kui seda vajad. Aktiivsena reguleerib ekraan kontrastust automaatselt vastaval ümbritseva valguse tasemele, nii et see on nähtav ka eredas päikesevalguses. Vívosmart 4 sobitub ideaalselt sinu elustiili juurde, olenemata sellest, kas lähed kontorisse, jõusaali või basseini.
Pulse Ox näit sinu randmel
Vivosmart 4 pulsisageduse sensor näitab keha vereringe hapnikusisalduse taset. Pulse Ox mõõtmised sõltuvad paljudest teguritest, sealhulgas tervisest ja füüsilisest vormist. Pulse Oxi kontrollimine aitab hinnata, kuidas sinu keha hapnikku imendab. Lülita funktsioon sisse, et mõõta oma SpO2 (hapnikku sisaldust veres) üleöö, või kasutage seda igal ajal, kui soovid oma keha kohta rohkem teada.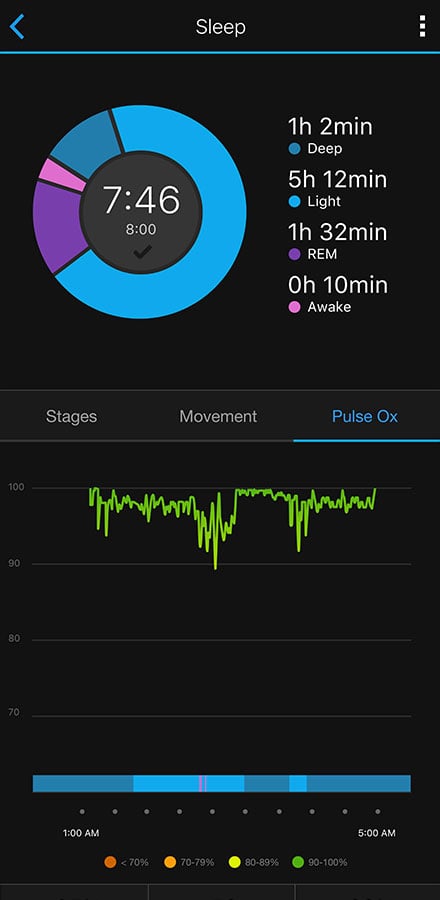 Laiendatud unejälgimine
Uni on tervise, heaolu ja füüsilise jõudluse oluline tegur. Vívosmart 4 annab ülevaate sellest, kuidas magad, jälgib kerget, sügavat ja REM une astmeid koos liikumisega uneajal. Lisateabe saamiseks lülita sisse Pulse Ox funktsioon, et oma vere hapnikusisaldust unerežiimi ajal salvestada. Ärgates, saad hõlpsalt vaadata ja võrrelda oma une andmeid Garmin Connect™ Mobile rakenduses.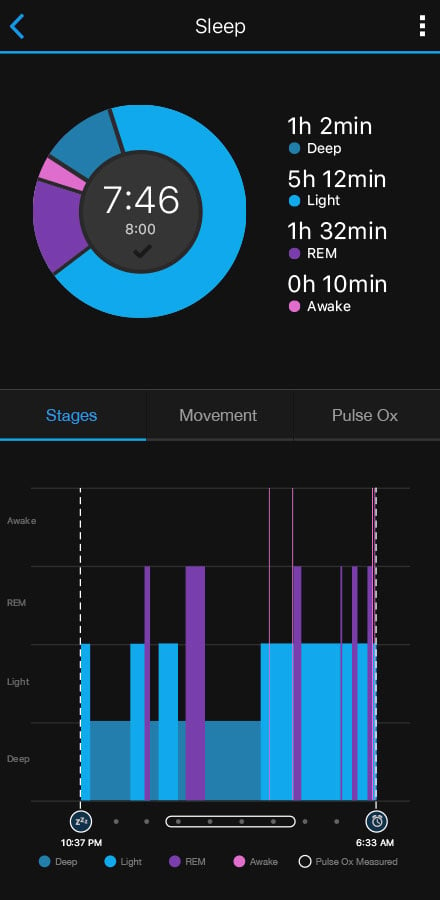 Optimeeri energia kulutust
Vívosmart 4 Body Battery keha energiarežiimi hindamisel kasutatakse stressi, südame löögisageduse varieeruvuse (HRV), une ja aktiivsuse andmete kombinatsiooni, et mõõta oma keha energiavarusid igal hetkel, nii et saad planeerida oma päeva, et optimeerida aegu aktiivsusteks ja puhkamiseks. Suurem arv näitab, et oled valmis aktiivseks, samal ajal kui väiksem arv näitab, et enne treeningu tegemist pead võib olla veidi lõõgastuda ja natuke puhkama. Body Battery aitab mõista kuidas on aktiivsus mõjunud enesetundele nädala lõikes.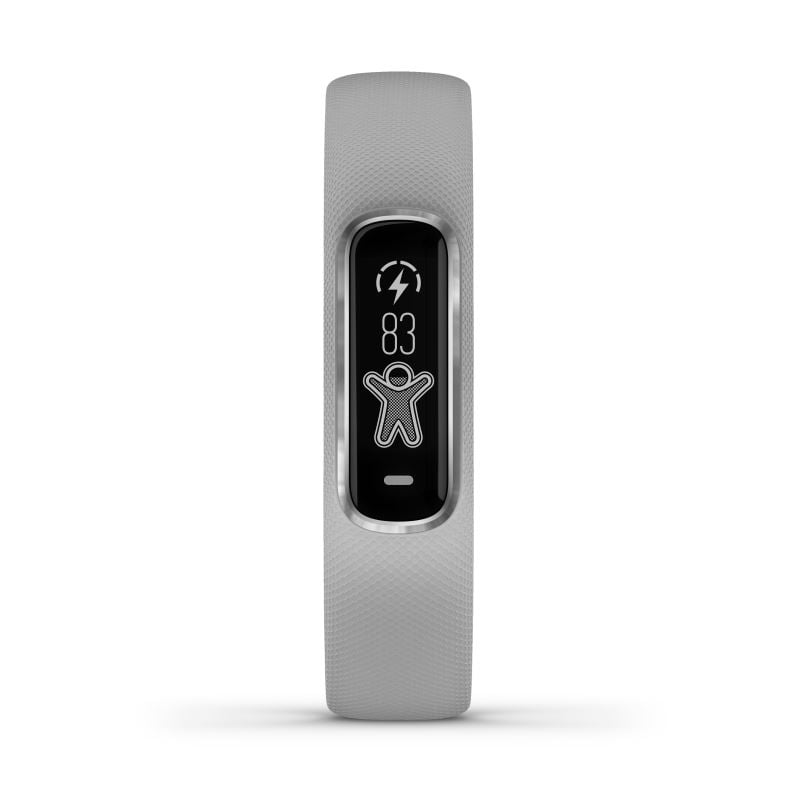 Päevase stressi hindamine
Tõenäoliselt koged stressi iga päev, aga kui palju? Vívosmart 4 annab märku , kui on rahulik, tasakaalustatud või stressirohke päev. HRV jälgimine (südamelöögi vaheline aeg) arvutab ja kuvab stressi taseme. Lisaks on "Relax Reminder" lõõgastumise meeldetuletuse funktsioon, mida saad sisse lülitada Garmin Connect'i rakenduses. Kui stressi tase tõuseb päeva jooksul, annab see vibratsiooniga randmel märku ja kuvab teate ("Take a moment to breathe?"), et läbiteha hingamisharjutused keha ja meele rahustamiseks.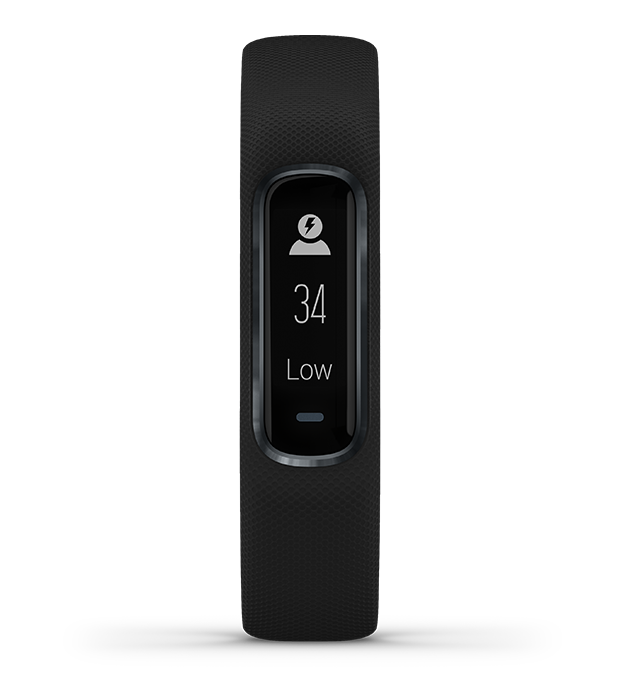 Keep track of your active life
Your vívosmart 4 greets you each day with a personalised step goal. Then it tracks and displays your progress. In addition to steps, its activity tracking capabilities include floors climbed, calories burned, intensity minutes and more. You'll also see a move bar and get vibration alerts to remind you when it's time to get up and move.
Track your workouts
You can use the preloaded activity timers to keep track of your exercise times and more. When using the strength training activity, it will capture your exercises, reps and sets along with your work and rest times so you can leave the notebook at home. And if you forget to start a timer, the Move IQ™ feature on vívosmart 4 will automatically detect exercises such as walking, swimming, cycling and elliptical training — and it even starts timing select activities. When finished, your activities are pushed to Garmin Connect, our online community, where you can review, edit and share the activities with your connections and friends.
Daily fitness and wellness monitoring
Using the Elevate™ heart rate data collected from your wrist, vívosmart 4 can — with a VO2 max estimate — give you an idea of your current fitness level. In general, as your aerobic fitness increases, your VO2 max does the same. Based on your VO2 max, vívosmart 4 is also able to estimate your fitness age — a stat that you may be able to decrease over time with hard work and exercise. For added insight, vívosmart 4 will notify you if your heart rate unexpectedly rises above a threshold you've set. If you're inactive for more than 10 minutes and your heart rate stays above your set threshold, you'll get an alert.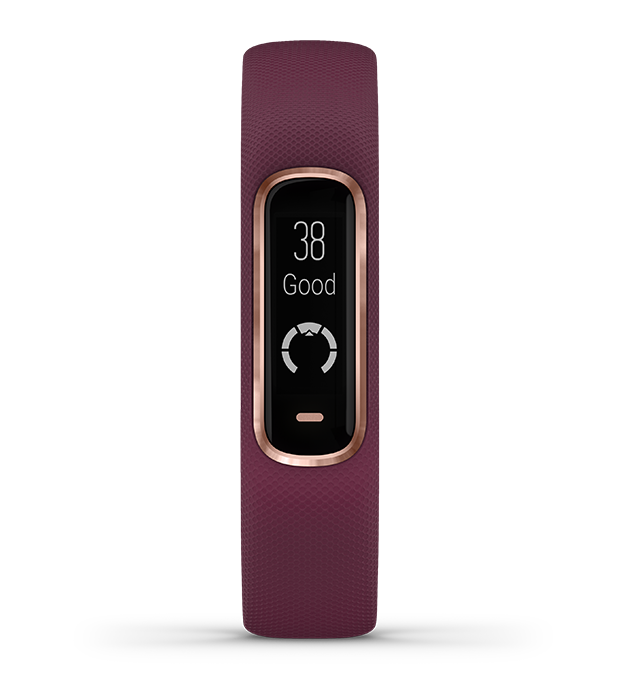 Stay connected
With a vívosmart 4 tracker on your wrist, you don't have to choose between staying connected and staying more active. Check the weather, control your music, receive smart notifications, find your phone, even reply with preset text responses (Android only), and access social media notifications on your tracker's display — all while keeping your smartphone stowed away.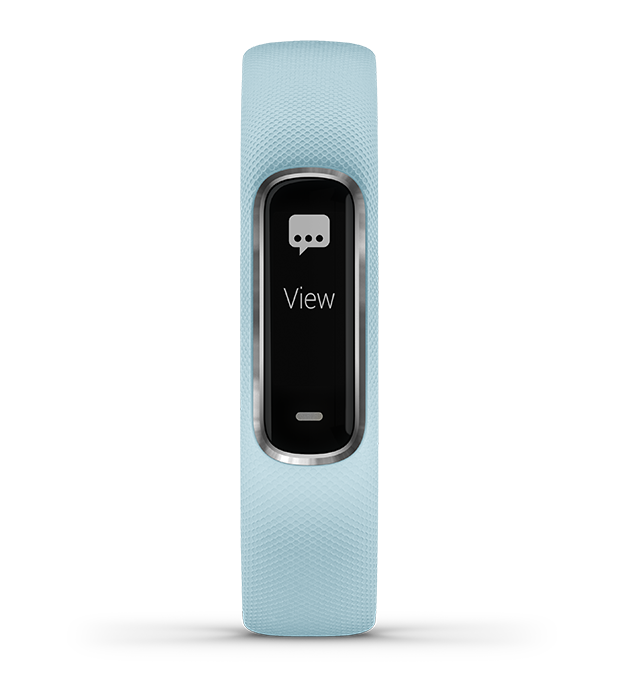 Share and compete
Keeping an eye on your activities and achievements is easy with vívosmart 4. Your tracker automatically syncs to our Garmin Connect online community, where you can review your progress, join challenges, earn colourful badges and even share via social media. Garmin Connect is free and available on the web or on your smartphone with the Garmin Connect app.
1 Requires initial setup through Garmin Connect or Garmin Express™
2 This is not a medical device and is not intended for use in the diagnosis or monitoring of any medical condition; see Garmin.com/ataccuracy. Pulse Ox not available in all countries.
3 Activity tracking accuracy
Android™ is a trademark of Google Inc.